Translated for Stacey  :-)
Three and a half thousand years ago a volcanic eruption completely destroyed the island, tearing it to pieces. I found out that every cloud has a silver lining!
Immortal white-and-blue dome towering above all other buildings in the always blue sky of Greece. Yes, it's the first frame, which is associated with Santorini: the dream of many romantics. Because it is a romantic island of Santorini, can not be denied. I met a lot of newlyweds here, in their honeymoon.
At the same time it is a small island – just 18 km long and 12 km wide. This means that in one day you can go to many destinations!
Lucky for me, I landed in Kamari; touristic, idyllic, yet peaceful village in the east of the island. Black, volcanic beaches stretching 2 km give some feeling of relief; when you come late in the evening or at night and sit by the sea, you listen to music of pebbles, undergoing outflows tides and waves. Magical phenomenon!
Transport in the island is very good: often (from Kamari to Fira every 20 minutes. Cost: 1.60e ) run great air-conditioned buses KTEL. You can rent a quad or scooter (about 15e / day) to go to the desired location. For me it was a great base from Kamari; from there within 10 minutes I could reach Fira, and from there, go to any town.We travelled a lot! Starting from Thira…
When I got off the bus and went up, at the first corner I did "wow" – street  looked like from a  fairy tale, and then …. Then were just more "wows"! Take a look:
(clicking on picture you will open it in a whole size)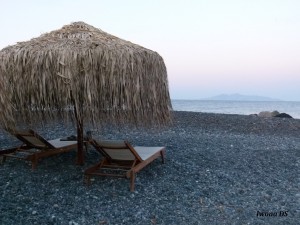 The black volcanic beach of Kamari slowly bending toward the west …
If you really want lights and human companionship, just go down to the beach; Here a long promenade of taverns and shops waits for you . Again and again amazed me ideas for coastal pubs;  in the greek style, or the modernist. With reference to the "explosive" history of Santorini, with a nautical strain, or white, minimalist.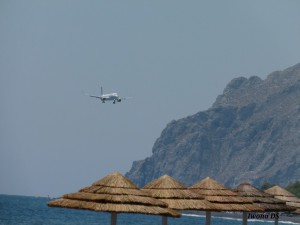 One of the biggest attractions of staying in Kamari are flying airplanes; it is here, just above the beach descend flight to land at a nearby airport. A real treat for people who love aviation!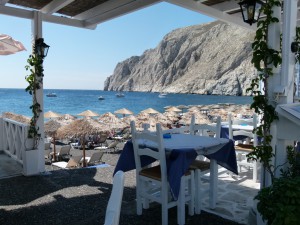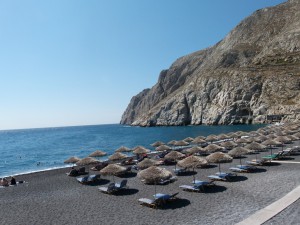 It's worth walking the whole promenade to reach that place, right on the mysterious rock-hewn monastery and rocks.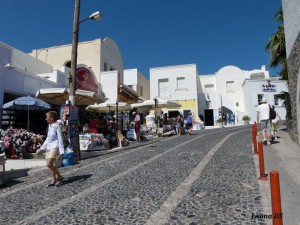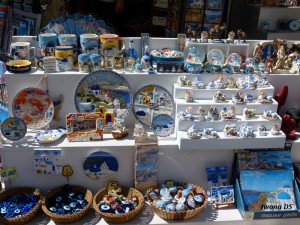 So that's Thira; a lot of handmade folk craft and a cobbled street you want to follow, because …
What do you think, what these people are so passionately photographing?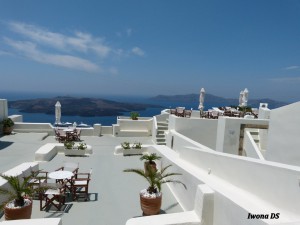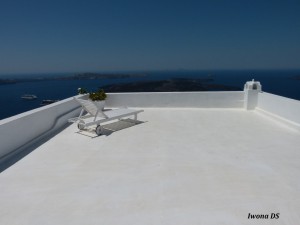 Does anyone of you would like to have a terrace with such a view? I can almost promise that the sun is 24h except  a deep night.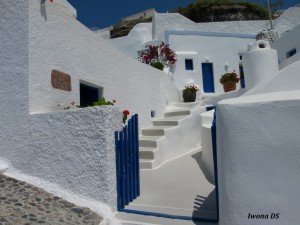 Such a wide then again narrow streets you can walk through for hours, marveling at every step on how great a man  can use his imagination and the strength of hands, having only rocks and stones.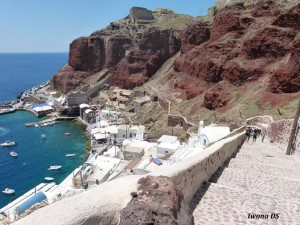 The old port in Fira? The winding staircase can be overcome on a donkey.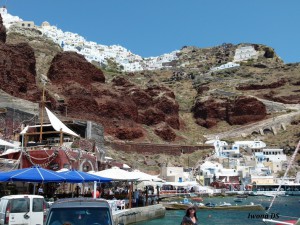 Standing now at the bottom (no shadow!) I was not happy at all that I will have to come back this same way! I just think that this crater is the result of such a big explosion, that the entire Minoan era "went up in smoke". With time, a man appeared and said: But here, you can build a city!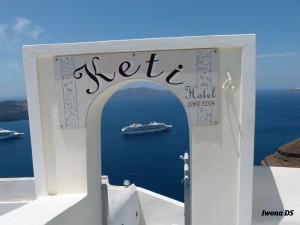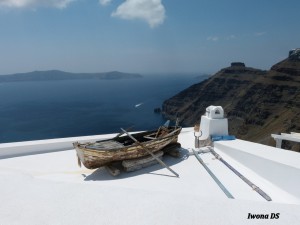 So he built. And he painted in white. And praise him for it.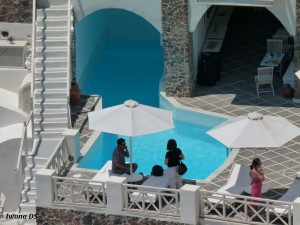 This corner you have certainly seen by typing in Google something like "amazing cave hotels Santorini". This is one of them.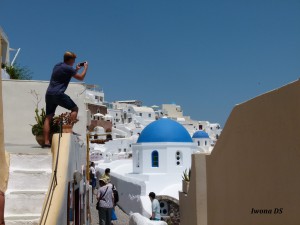 Yes, finally the famous dome in Oia; utterly commercialized but very beautiful village in the north west of Santorini! As you can see, I treated her with neglect. But some people didn't! (don't want to know what was happening on the other side of the dome).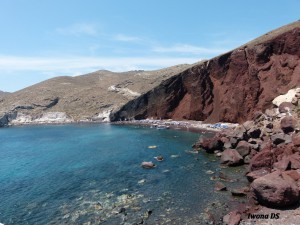 Red (for a change) beach in Akrotiri. It is true that from this perspective it makes a small "wow", but it is also proof that the Greeks can make business on everything. In fact, the beach is not uncommon – in my opinion. It is not even red – red rocks are. But it's still an interesting place to experience.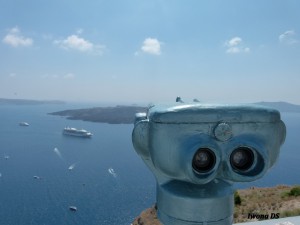 Last look at Thira, which stole my heart (I admit, even more  than Oia).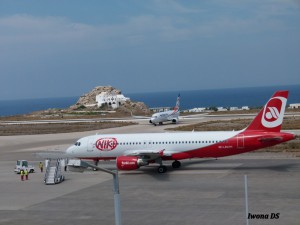 And coming back home. The charming, small airport on Santorini.
Now I have to disappoint you: before I went I had read in the guide book that the photos do not reflect Santorini even in the middle of the beauty of this island. I could hardly believe it, because the pictures that I watched so many years, are breathtaking. And yet. It remains for me nothing else but agree with this opinion.
When I first stood on the "top" of Thira, and below me there appeared a cascade of white balconies, swimming pools, cunning streets and an armful of colorful flowers, sticked in the ceramic pitchers, and all directed toward the island with a crater, this picture moved me to the core. You can see hundreds of postcards with this image, but when standing  there on your own foot, relying on hot parapet and being a part of this maze, as if it had been invented for a delight of a newcomer, you just want to say::God save this island!